How to Create an SEO Strategy that Drives Sales and Leads
The Coronavirus transformed the marketing landscape dramatically, with many businesses failing to adapt to the new era of changes. However, quality teams with a solid foundation were able to get ahead of the competition and increase their market share.
If you're a marketer or a small business owner, you know that SEO is an excellent tool have in your arsenal to create a long-term plan that will skyrocket your growth. This article will show you how to create an SEO strategy that actually drives quality leads and sales to your business.
Here's what we'll cover:
Target Audience Definition
Keyword Research
Mapping Keywords to Buyer's Journey
Crafting a Solid Content Strategy
Measuring SEO Results
So, if you want to learn any of the above, fasten your seatbelts and let's find out how to create an effective SEO strategy to increase your sales!
Why Having an SEO Strategy Is Vital
SEO is essential for businesses because it gives them the visibility to attract potential customers in today's digital-heavy world.
81% of customers research online before making a purchase, putting brands without a solid online presence at a disadvantage.
Brands that use a strong SEO strategy are better able to rank their website and content high in the SERPs for relevant keywords, thus attracting more leads and funneling them through their sales funnel.
More importantly, an SEO strategy can help with:
Visibility and Rankings
Increased visibility is one of the most significant functions of SEO, making it easier for potential customers to discover you when they search for the products or services you have to offer.
Considering that most web visitors never click past the first search engine results page, the more effective your SEO efforts are, the better your ranking and visibility will be.
Website Traffic
One key goal of SEO is to boost your online presence, which you do through increasing traffic to your website. Remember that the top-ranking page receives approximately 23% of all clicks, and the first five listings receive 72.1% in total: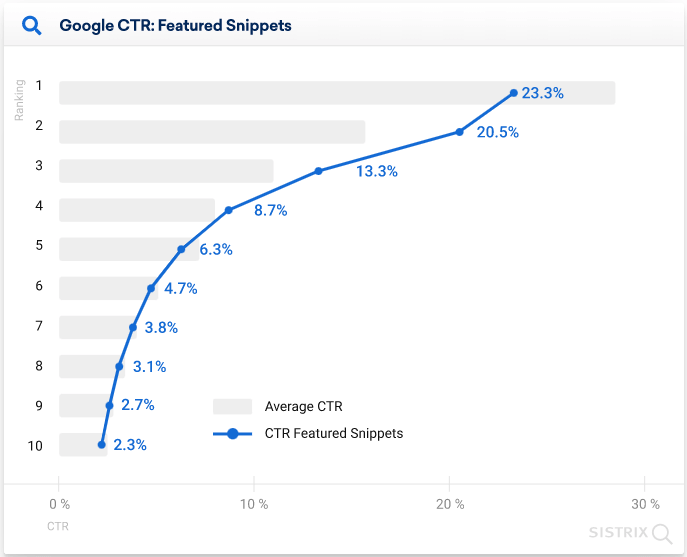 If you want more users to find your website through a search engine, you'll need a solid SEO strategy that will help you rank among the top five results – and ideally at number one.
Better Customer Experience
Another reason SEO is vital for your brand is that all the effort you spend creating valuable content and optimizing your site with on-page SEO improves your site's usability, resulting in a smoother and more satisfying user experience.
When you make the effort to create a responsive site, for example, it will be accessible to all of your mobile users and those browsing from a laptop or desktop computer.
Increasing your website load speed will also minimize your bounce rate and encourage users to stay on your site longer. Nearly 50% of customers expect a page to load in under two seconds, and the longer it takes, the higher the bounce rate and the lower the conversion rate.
Target Audience Definition
Potential clients who use search engines to find businesses like yours are your target audience.
This is the type of person you want to come to your site. The more you engage with this group, the more rewards you'll get in terms of brand awareness and customer lifetime value down the road.
You'll need to know who's searching for your product or service and what kinds of searches they're doing in order to define your target audience and direct them to your website.
As you learn more about your target audience, you'll update every aspect of your SEO approach, from landing page design to content optimization.
The following are the most typical variables to consider when painting a picture of your target audience:
Age
Gender
Income
Location
Highest level of education
Power of purchase
When defining your target demographic, remember to be as precise as possible.
Tools to Identify Your Target Audience
Here are five tools that can help you understand your customers much better so that you can create a solid target audience for your business.
Google Analytics
Many tools make the process of identifying your target audience easier and save you a lot of time. Despite its prominence, Google Analytics is a tool that is frequently disregarded.
When it comes to identifying audience insights, GA can assist you in discovering:
Demographics on the population (age, gender)
Geo-data (language, location)
Device (mobile, desktop, tablet)
Interests
Cross-device
Behavior
Lifetime value
Facebook Audience Insights
In addition to Google Analytics, it is well known that Facebook collects a significant quantity of data on its users, so there is a wealth of information to be gleaned from their insights.
Most businesses have a Facebook business page, and if yours does not, you should get one right away! Although your Facebook business page will not receive the same traffic as your website, it can provide you with information on the types of people who interact with your company.
Facebook Audience Insights will tell you things like:
Demographics(age, gender, lifestyle, education, relationship status, job role, etc.)
Other pages they like
Location and language
Purchases (what have they bought previously and by which method)
Email Newsletters
Email remains one of the most efficient ways to understand your customers and create a solid target audience. By adding surveys and quizzes to your emails, you can gather valuable data from your customers:
Combining this information with Google Analytics and Facebook data, you can craft a buyer persona that's extremely relevant to your target audience.
To take this to the next level, there is a variety of email newsletter software to automate this process. You can use templates to drag and drop content to create highly converting emails easily with a click of a button.
Learn More: How to Analyze Your Email Campaign Performance and Optimize It
Online Forums
Internet forums like Reddit can be a gold mine of people asking and answering questions on a variety of subjects. You'll almost certainly come across discussions about your sector or possibly a specific product.
Pay attention to the terms used; there may be a significant difference between those asking the question and those answering it. For example, let's say we have a thread on email marketing. A question on Reddit would look like this:
In this section we could possibly take as keywords "how to collect emails", "grow your email list" and "sign up button". Then we can see the answers below and get some inspiration from there, too:
So after reading this answer, we have more keywords, like "best lead magnets", "how to do email outreach", etc.
This can be quite helpful in detecting terms that can be used to improve your on-page SEO or serve as the foundation for a blog post.
Phone Calls
Calling your customers is an easy and direct way to learn about their personalities. This may seem unusual initially, but having in-depth 20- to 30-minute talks with the people who actually use your product will help you better understand their characters and what motivates them to convert.
Make sure your phone survey is focused on the customer rather than your business.
As you make ten or twenty of these calls, patterns will emerge that will allow you to understand your target demographic. You can then start making broad assumptions about the target audience, resulting in a more precise picture of them which will help you align your messaging better.
Keyword Research
The act of discovering terms and phrases that people use in search engines is known as keyword research. This section will show you how to employ tried-and-true tactics to generate quality keyword ideas.
Related Searches
One of my favorite tactics for finding hidden gems is to study the "Related Searches" section of Google's search results.
Start by searching for a term in Google and then scroll to the bottom of the results page. A list of eight phrases that are related to your search query will appear. These are Google-generated keyword suggestions.
Here, you can find several keywords that Google suggests, and by repeating the process with terms from the related searches section, you can dive deeper into finding valuable keywords.
Learn More: SEO Keyword Research Made Easy in 2021
Ahrefs
Not everyone is aware that Ahrefs is a fantastic keyword tool. The "Keyword Explorer" feature of Ahrefs helps you explore helpful information for several keywords:
My only issue with Keyword Explorer is that it isn't very good at generating fresh keyword suggestions. It comes up with keywords that are simple versions of the one you choose to search.
Apart from that, it remains one of my go-to tools to do my initial keyword research. The options available in Ahrefs Keyword Explorer are unrivaled when it comes to drilling down to a single phrase:
Wikipedia
Wikipedia is a keyword research goldmine that is often ignored. You can discover hundreds of articles that have been hand-picked by industry experts and categorized into topics.
Here's how to use Wikipedia to come up with keyword suggestions. To begin, go to Wikipedia and search for a generic keyword like pasta:
Then check for the page's "contents" section. The subtopics mentioned on the page are in this section. Several of the subtopics listed here are fantastic keywords that would be difficult to come by in any other way:
You can also study the Table of Contents of other closely related terms by clicking a few internal links on the page. This is an excellent strategy to find even more keywords that you can add to your list:
Advanced Tips and Strategies for Keyword Research
Now that we've covered the fundamental tactics of keyword research, it's time to move on to some more advanced strategies.
Ahrefs' Content Gap
Ahrefs' Content Gap tool is one of my favorite tools to find out which keywords a competitor's website ranks for:
Go to Ahrefs' Content Gap and add a couple of competitive websites. This tool will display terms for which at least two of your competitors rank, but you do not:
Knowing that your competitors are ranking for these keywords, there is an excellent chance that you can also enter the top 10 results in the SERPs.
Examine Keywords in Terms of Search Intent
To put it simply, think about what someone looking for this keyword wants to see. Are they looking to purchase something? Are they simply looking for information?
Search intent can be categorized into three different sections:
Navigational

– which refers to the intention of reaching a particular site. 

Informational

– which describes the intent of acquiring information from one or more web pages.

Transactional

– which refers to users performing some web-mediated activities.
To acquire more leads and eventually more customers, you need to create content around informational search intent.
This kind of content will help your audience find you, and if you craft a well-researched piece of content, they will remember you and return.
Pro tip: When you find a keyword with one of the methods discussed above, go to the SERPs and explore what the top pages are writing for that term. If the content isn't educational, you know that these keywords will not succeed even if you rank in the top-ranking positions.
Learn More: How to Understand Searcher Intent and Use It to Boost SEO Rankings
Content-Related Keywords
The majority of marketers optimize their websites for keywords that are highly relevant to what they sell.
This can be a flawed strategy because:
On the one hand, product keywords are usually quite challenging to rank for.
On the other hand, when your potential buyer isn't looking for what you sell, they search for thousands of keywords that you are not targeting.
Get your potential consumers closer by sharing valuable content, so they're more likely to buy from you in the future. Implement keywords that have seemingly no relationship with what you sell. These are keywords that your customers use, so they're worth pursuing.
Let's say, for example, that you have an online store that sells outdoor equipment. You should optimize some of your pages for terms like "buy hiking boots." But don't stop there. Someone looking to buy hiking boots might also look for different topics that you can craft content around, like:
How to prepare your hiking bag
Descriptions of the top 10 hikes in your region
How to deal with weather conditions when you are outdoors
How to boost stamina for longer trails
As a result, you'll want to produce content based on these content-related keywords so that you can attract new leads and potential customers.
Learn More: The Content Marketer's Guide to Keyword Research
Mapping Keywords to the Buyer's Journey
The buyer's journey is the act of research before making a purchase. There are four stages to this process:
Awareness

: The buyer is aware that they have a pain point.

Interest

: The buyer is interested in learning more about their situation.

Consideration

: The buyer is weighing the pros and cons of several options available on the market.

Conversion

: The buyer is looking to buy a product or service.
The four steps of a marketing funnel are as follows:
Now, let's look at a real-life example:
One of our potential customers at Moosend is a solopreneur. Let's say her name is Mary and her goal is to increase sales at her online store.
Here's how her buyer's journey might go:
Awareness

: Mary recognizes that her online business isn't generating revenue, so she looks for solutions.

Interest

: She realizes that email marketing is an excellent tool in her arsenal after reading our post on creating a digital marketing strategy. She begins to research email marketing, most likely from Moosend's blog.

Consideration

: Mary understands that she requires a platform to do email marketing. She notices that the majority of the blogs only recommend various tools and begins to compare them. She reads reviews, posts questions on forums, and studies educational content on multiple blogs.

Conversion

: She chooses to sign up for Moosend's free plan. She decides to upgrade to a paying plan when she understands that we're the ideal fit for her needs.
Mary is now a happy customer that uses the platform. In reality, we have a variety of consumers, which means we have various buyers' journeys. Understanding the buyer's journey allows you to produce content that corresponds to what they're looking for at each stage.
As we discussed in the previous section, this entails conducting keyword research. The key is to pick terms that potential customers are looking for, meet their wants, and convert them to customers.
Most people consider the buyer's journey to be a lengthy and tedious procedure. They estimate that it will take their consumer months to complete all four stages of the buyer's journey. The benefit of developing content for each stage of the buyer's journey is that you can speed up the process.
We can guide potential customers from having no knowledge of email marketing to being aware of our product and brand and potentially considering a purchase by targeting different journey stages and using clever internal linking.
Make sure to provide appropriate internal links to the next logical step as you curate content for each stage. If you're writing a blog post about a topic in the Awareness stage, make sure it links to a website in the Interest stage that's relevant.
It's all about mapping the buyer's journey to the marketing funnel, guiding individuals from problem awareness to product awareness, and finally leading to customer awareness.
There has to be a rational process behind why you're choosing particular keywords and how they fit into the big picture. This is why thinking about keywords in terms of the buyer's journey makes sense. You can build your authority, trustworthiness, and influence with potential customers if you can offer the right content to them at the right moment.
When the time comes to buy, there will be no one more evident than you.
Craft a Solid Content Strategy
As a marketer, it's helpful to understand how Google promotes longer-form content and visual material when planning an SEO strategy for content marketing.
Google has begun to recognize these aspects as quality markers and is improving its ability to link search intent to high-quality information. Here are the actions you should take to make sure you're up to date with content marketing.
Begin by using the tips in the preceding sections to compile a list of keywords that your blog should target. After you've decided on your keywords, it's time to include them in your content marketing strategy.
Each week, focus on one keyword phrase by adding a blog post to your editorial calendar that includes that keyword phrase. Don't get too technical about it; simply add it there and leave the details to the appointed writer.
Once you add it to the calendar, the writer will craft a keyword-oriented post. This is a great reason to manage an editorial schedule for your team if you aren't already. You can become much more purposeful and strategic with your objectives if you pre-plan your material.
The next stage is to make sure your content remains on track. Take note of the following elements of the article:
Article headline
Page title
Page URL
Keyword density
Keyword variations
Meta description
To do this efficiently, you can use a tool like ClickFlow, which allows you to test various settings such as the title and meta description. ClickFlow's content editor will also enable you to add relevant keywords, making content creation and optimization easier than ever before: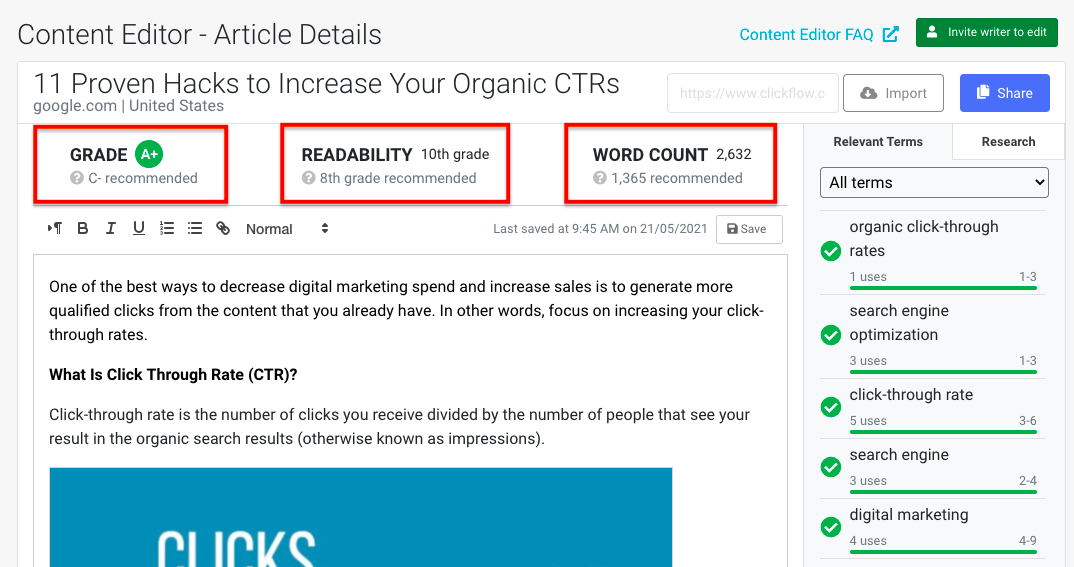 How to Upgrade Your Content Strategy
Focus on Evergreen and Quality Content
When it comes to content marketing, the creation of evergreen articles should be the most critical component of your approach. The term evergreen refers to enduring freshness or popularity which, in this case, is your article.
Your evergreen blog post should include all the essential elements that will entice your audience, such as a catchy headline, a compelling introduction, plenty of valuable information, and a strong conclusion.
This stage is critical since 20% of website visitors will read the full content, while 80% will merely glance at the headline before leaving. The reason for this is that most users only stay on a website for 15 seconds or less. It means you just have around 15 seconds to persuade the reader to read the rest of the article.
Give your readers something useful to consume, an article they will remember and refer to in the future.
Marketers use evergreen content to attract new readers and convert visitors into leads and paying customers. To improve search engine exposure, your evergreen content should have, among other things, a compelling headline and the appropriate keywords based on user intent.
Write Long-Form Content
Most blogs' typical piece of content is around 1,000 words or less, which is the minimum number required to pique a reader's interest in your product or service.
The issue is that while excellent keyword optimization can bring in a lot of search traffic, it won't bring in loyal readers to your blog. By varying your strategies and providing long-form content, you may enhance user engagement and time spent on your site, resulting in reduced bounce rates.
Other aspects, such as content promotion, can help, but providing more extended and in-depth content that gives your readers a lot of value can be a highly effective part of your content strategy.
The topic can also determine the length of the content. ViperChill, a marketing blog, compiled some interesting data on the average word length of a random sampling of blog posts categorized by industry:
And serpIQ examined the average content length in the top ten search results. The research showed that the most popular posts were frequently around 2,000 words long:
Learn More: Absolutely Everything You Need to Know About 10x Content
Build Internal Links
Remember that a search engine's ultimate purpose is to bring up the best few pages on the web regarding a particular topic.
It's easy to underestimate the significance of internal linking because most link builders and SEO specialists focus on inbound links and establishing links from other websites.
When you build an internal link for a page, you're telling Google that this page is more significant than others on your site. Internal links and links from high-quality outside sources can help you gain authority and boost your search engine rankings.
Internal links are helpful not only because they send a clear message that your content is significant, but they also serve as a guide for your users as they progress through your marketing funnel.
The importance of your blog and other linked pages becomes more apparent to search engines when the link authority of each page is spread inside your website via internal connections.
While these sites rank well and drive traffic to your website on their own, they can also provide a second layer of SEO advantage if you apply them correctly into your internal linking strategy.
Learn More: How to Create a High-Performance Content Marketing Strategy in 2021
Use Different Content Types in Your Content Strategy
To outrank your competitor's content strategy, you also need to create different types of content. Here are four types of content you should include in your strategy.
Blog

Posts

Because they're a great source of site traffic that can produce leads, blog articles are the most traditional content marketing tactics. When someone has a question, they frequently type it into a search engine to get an answer, often found within a blog post.

They'll not only obtain the solution to their query, but they'll also learn about the company that provided it. The goal is to be associated with that brand.
E-books
If you're going to use e-books in your marketing strategy, make sure the information is quality and appeals to those already familiar with your brand, product or service.
E-books usually work as lead magnets, which means that to download the e-book, you'll need to submit an email address or other contact information.
They're a terrific method to repurpose material from your website or blog and can provide the user with a lot of information about a specific topic.
Email Marketing
Create an email newsletter to showcase your most popular articles and encourage recipients to read the full version on your website. Leverage original, engaging subject lines, design and optimize your email to grab your reader's attention, and make them want to read more.
Additionally, employ marketing automation solutions to target your email marketing depending on what clients previously liked or clicked on your website.
For example, if they've read one of your blog posts on SEO strategies, you can use sophisticated newsletter software to give them more content that they might enjoy, increasing your brand exposure.
Case Studies
A case study is an excellent piece of content for organizations looking to appeal to various personas and increase sales.
A case study that reveals how you've solved difficulties and pain points for your clients is the ideal vehicle for displaying how your solution functions in the real world and entices prospective businesses.
Learn More: How to Write a Case Study that Converts Prospective Buyers into Customers
Measuring Results for Your SEO Strategy
​​It's been said that if you can measure it, you can improve it. Measuring and refining the impact of your work is crucial to your SEO success, customer retention, and perceived value.
When something isn't working, it also helps you refocus your priorities. While it is typical to have several goals, it is critical to have one core objective. To do that, you need to pay attention to data directly corresponding to that particular goal.
The following are some of the most vital metrics for determining how people interact with your content:
Conversion rate
Time on page
Pages per visit
Bounce rate
Scroll depth
Search traffic
To comprehend all of these metrics, you'll need a program that can display all your site's data. Google Analytics, Ahrefs or Moz are essential tools to have in your toolbox for measuring the success of your website.
In addition to the information provided above, you can use these tools to:
Isolate organic traffic
Track traffic to your site over time
Check how many visits a particular page has received
Track traffic from a specified campaign
Study your click-through rate (CTR)
Measuring your success using the indicators listed above will allow you to keep track of your performance and change your SEO efforts if something isn't working.
Focus on pivoting your strategy and altering some of your content parts if something isn't working as it should. ClickFlow makes it simple to do this by allowing you to test different elements of your content:
Data is your best friend when it comes to tracking your SEO development. You can use an SEO tool to monitor rankings, link building, technical site health, and other aspects of your website.
The Takeaway
Your SEO approach is your best ally if you want to generate new leads and expand the reach of your e-commerce website.
Perform a keyword search and leverage long-tail keywords for your product descriptions and titles.
Start crafting blog posts and incorporate relevant keywords into your content.
Add actionable meta descriptions to your pages to encourage users to choose your site above other search results choices.
Last but not least, use tools to help you detect and fix site faults as quickly as possible.
Doing all these things efficiently will help you create an SEO strategy that drives sales and leads and, thus, grow your business. Until next time, keep optimizing your SEO efforts!
---
Alex is a content writer at Moosend. He took a leap of faith into the digital marketing world from an architecture background and has never looked back. You will find him traveling around the world in his free time.